How do you know what to say to someone who has cancer?
Is there a right time to talk to someone with cancer?
Let your friend know it's okay if they don't want to talk.
3 basic tips for what NOT to do when talking to a cancer patient
1. Give advice
2. Discuss alternatives
3. Speak about other people's cancer
Help to get you talking
Here are six tip to help you start talking
If you are not sure what to say or even whether they want to talk about it, let them take the lead. If they want to speak they will and you should be a good listener. Some people want to speak about everything, some people don't want to talk about it at all.
There is no right or wrong way for a cancer patient to behave.
It's ok to ask if they want to talk about it, you just need to respect their answer. In fact, it may be best to ask, unless they start the conversation first and then let them take the conversation where they choose.
Silence is sometimes better than noise. It helps people think and they may have a lot going on in their minds. If there is silence it's Ok to wait until something is said, if you have nothing to say.
Talking about cancer or treatments or side effects or indeed about anything too much, just because you think you should, can be annoying. It can suggest that you are not paying attention to the person's needs and is not helpful.
Smiling, and warm looks can get past the barriers of the illness to the person you know and love. If you don't know them that well, silence, listening, and showing understanding may be the best way to show support. Warm touches for comfort may or may not be welcome and you need to think if you would do this to the person anyway if they were upset about something else.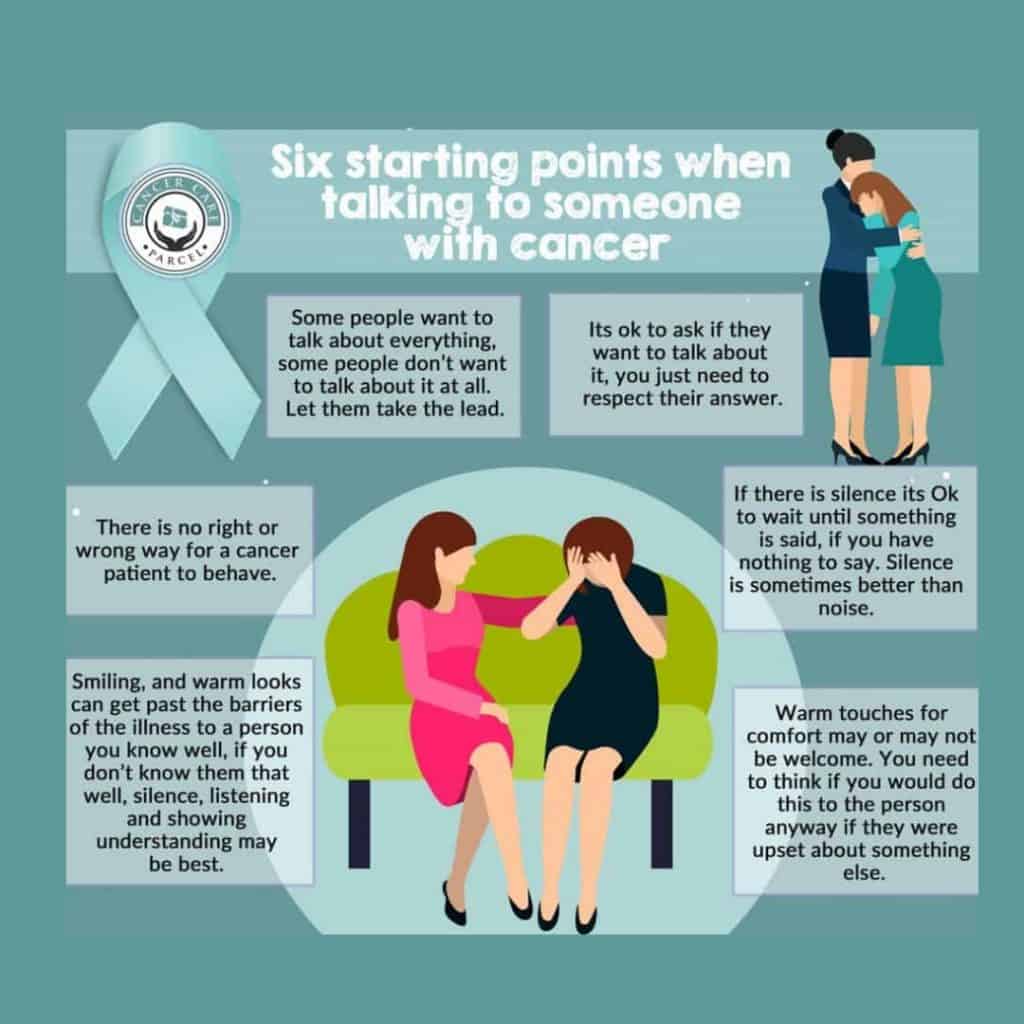 Things to remember when talking to cancer patients
Don't judge how they feel or act.
Don't make light of their feelings.
Maintain eye contact to let your friend or loved ones know you are really present and listening carefully.
Put your own feelings and fears aside.
If you believe that someone's health and lifestyle choices contributed to their illness, or that "God's will" caused them to be ill, dont tell them this, there is no benefit in this.
Don't express overly pessimistic opinions. They almost definitely won't appreciate it.
Don't be afraid to say something to your friend. It is better to say, "I don't know what to say" than to not be there for them at all.
Be OK with silence. Speaking because you're nervous can be irritating and silence can help your friend to focus their thoughts. They may have a lot going on in their minds.
Don't try to find a positive view. Avoid "It could be worse," or, "At least it isn't…" For someone with this disease, you are probably describing their worst-case scenario (which they dont want to be reminded of).
Avoid saying things that minimize what someone is going through such as "Everything will be fine", "Cheer up" or "Don't worry,"
Conversation starters
You could say things like the following to get the conversation going:
This must be very hard for you to go through.
I am here if you want to chat.
I want to help in any way I can.
Are you having visitors?
Is there anyone you would like me to contact for you?
What advice can I give our friends about visiting you?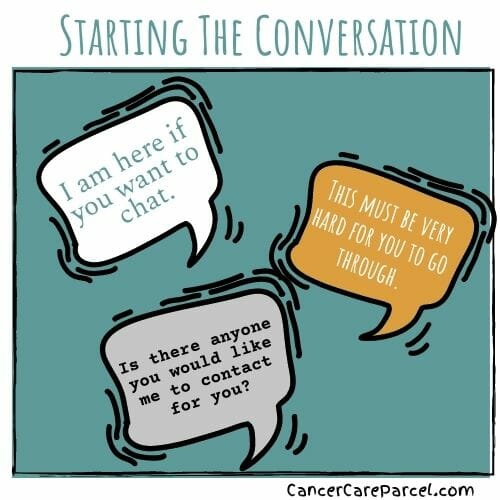 Try to hear and understand how they are feeling.
Don't make light, judge, or try to change the way they feel or act.
Maintain eye contact. This gives your friend the sense that you are really present and listening carefully.
Do not say, "I know how you feel." it could make the person with cancer upset because you really don't know how they feel.
Put your own feelings and fears aside.
Don't be afraid to talk with your friend. It is better to say, "I don't know what to say" than to stop calling or visiting because it makes you feel bad.
If you're feeling tearful, let them know, but be brief. You may have to stay away until you can be there for your friend, without your friend having to comfort you.
Be OK with silence
Try to be OK with silence. It may help your friend to focus their thoughts. Someone talking because they are nervous can be irritating.
Sometimes silence is better than noise and can be comforting. It can help people think and they may have a lot going on in their minds.
If there is silence its Ok to wait until something is said, if you have nothing to say.
Using humor can be an important way of coping
Suggestions of helpful and unhelpful phrases
Positive language to help show your care and support
If/when you feel like talking, I'm here to listen.
What are you thinking of doing, and how can I help?
I care about you.
I'm thinking of you.
I hope it will be okay.
I'm sorry this has happened to you.
Phrases that are unhelpful
I know how you feel.
I know what you should do.
You will be ok
You are brave/strong
Keep fighting
Don't worry.
How long do you have?
Everything happens for a reason.
What doesn't kill you makes you stronger.
This is God's plan.
How do you cheer up friends with cancer?
listen to their concerns
let them know that you hear what they are saying
tell them that you are a friend who will support them in their worst times as well as the good times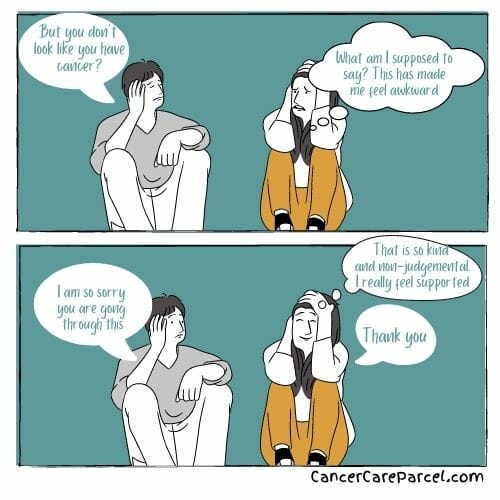 Tips on what to say when you want to offer to help
Positive ways to ask if you can help
driving them to their cancer treatment
helping look after their friends and family
offering to help with specific household chores
visiting them in hospital (check that they want to see people first)
thinking about what might make their life feel abit more normal and try to implement that, if they are up for it. Maybe a night in with friends or family watching TV, or a walk somewhere nice?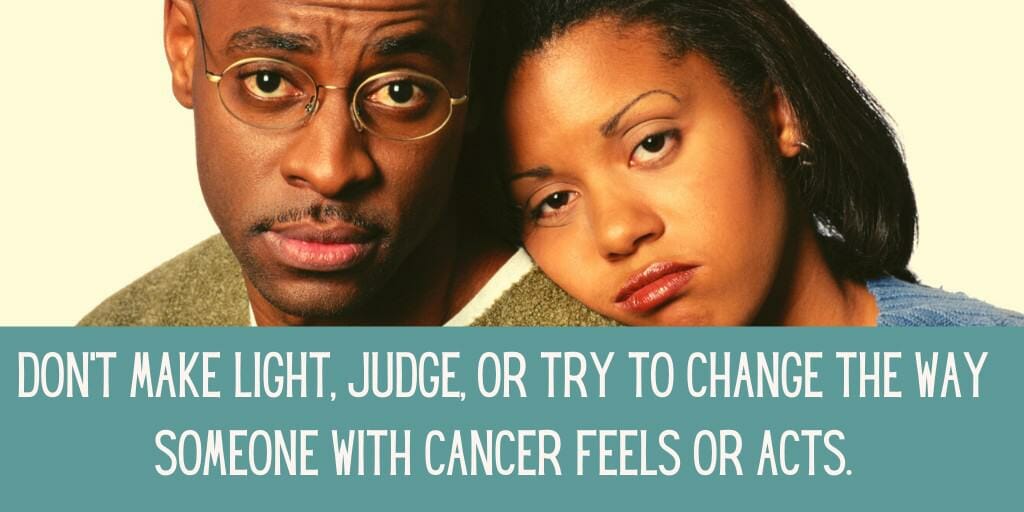 What to say when you can't visit your friend in person
Phone calls
What do you write in a card to a person with cancer?
When cancer treatment is over
The fear of cancer returning is possibly at the forefront of their thinking.
Their bodies may have changed considerably.
Drugs may still be in their systems for a few months to come.
Respect your friend's privacy
Talking to other people about your friends' cancer
Final thoughts
Further Reading
How To Support Someone Going Through Chemo: Easy and Not So Easy Tips
Worst Gifts For Cancer Patients
How To Help Someone Going Through Radiotherapy
Dr Cohen started her working life as a research scientist and lecturer with over 100 peer-reviewed scientific publications.
She followed a classical scientific career until she left mainstream science in 2000 (which coincided with the birth of her first daughter) to establish the Life Science Communications company, Euroscicon Ltd.
Euroscicon Ltd was her first company (which she sold in 2016).
Current Projects
In 2013 Dr Cohen was diagnosed with Cancer and set up Cancer Care Parcel which provides appropriate gifts for people with cancer.
Dr Cohen is the lead scientific advisor at Optimised Healthcare. A medical profiling company which provides advanced disease prediction, prevention and wellness optimization services.
She also works with and establishes businesses and charities which benefit local, national and international communities.