When you have just found out that your friend, family member, or loved one has been diagnosed with cancer, or someone you know needs chemotherapy, even though you probably want to do the right thing, getting the right gift may be furthest from your mind.
It's hard to know what to do or say and everyone is concerned about the outcome.
Finding time to digest what is happening is important for all those concerned. Quite often it's hard to find the peace required, the right information and the items needed that will help on the journey.
Cancer gifts can ease this stress and show that you care. But there is no 'one size fits all' when it comes to the right thing to give and there are also certain things to be avoided which we discuss in a separate article.
What is a good gift for a cancer patient?
Firstly, you don't have to spend a lot of money. Sometimes you might just want to do something different: to bring a smile to the face of someone who has or will be going through a lot. Great cancer presents don't need to cost much, sometimes they just need some thought. Or you might want to get an already made-up care package, where you don't have to worry about appropriate items.
Before you decide exactly what you want to do or buy there are some things we would like you to consider.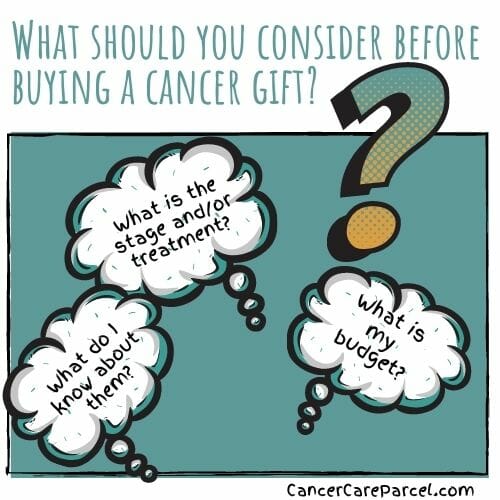 What should you consider before buying a cancer gift?
You have to be mindful when buying something and put extra thought into ensuring you don't wrap up anything that could be detrimental to their health, or anything that could upset them. Really think over every purchase and do your research on whether it's appropriate. There are plenty of sources of information out there, including advice from medics and cancer patients themselves, and plenty on this website. It's good to read these, as it will give you a better and more rounded idea of what to get and what not to get.
Who are you buying the gift for?
Different people will appreciate different kinds of gifts. There's no one-size-fits-all gift for every cancer patient – in the same way that there's no set gift for mothers on Mother's Day, partners on Valentine's day or every friend on their birthday or Christmas. Only you will know the best gift to give your friend, as you're the one who will know their tastes and preferences.
In addition, it may seem obvious, but a child won't necessarily want or need the same gift as an adult.  A man won't always need what a teenager needs.  And some people just have color preferences!
 Examples of getting the right cancer gift for the right person
Most breast cancer gifts are designed for women, but men get breast cancer too!, so not all breast cancer gifts are suitable for breast cancer patients.
Adults may find they need certain items, such as a thermometer, to check whether they have an infection. This can be a useful gift for an adult because a child would not appreciate it.
We know this is sexist, but many men may not appreciate a face mask for pampering.  Women won't want a face cream designed for men with dry skin which can be a side effect of treatment.
Children may have a color preference that will help them appreciate a gift, even if that gift is more useful than fun, (presented in the right way, it can be both).
..and just because a child and adult are going through chemo, it does not mean that they would both appreciate bed socks for example.  An adult might find them comforting and helpful if they get cold due to treatment, a child might find them an annoyance.
What is the stage and/or treatment?
In order to be as mindful as possible, you need to be aware of the stage of your friend's cancer as well as the therapies that they are having – if they're having therapies at all. If your friend has decided not to have therapy/treatment, or if they have a terminal diagnosis, for example, you really shouldn't purchase anything that says something along the lines of "get well soon", for example
Different treatments can also have different side effects, which can make often popular gifts, such as flowers or chocolates, inappropriate. And therapies can have different impacts at different stages too – so a gift that may be appropriate early on in treatment might not be any good later on down the line and vice versa. So, make sure you genuinely understand what they are facing and do plenty of research into what kind of gifts can help and what kind of gifts should absolutely be avoided.
What if you don't know the treatment/stage
When you don't know the treatment regime,  or if there is no treatment, it does not mean you cannot get them an appropriate gift.  There are many items gratefully received and useful throughout the cancer journey.
For example
water bottles to stay hydrated are useful for everyone's general health.
an insulated food bag is useful,  for taking snacks to treatment or hospital. Equally handy to keep by the bed whilst convalescing or for picnics.
What is your budget?
When worrying about what to buy someone diagnosed with cancer you can be bombarded by luxury and costly items.  This does not have to be the case.  If you search carefully you can find presents and cancer care packages at reasonable prices, or you think about putting together a care pack yourself to cut your costs.  We suggest that when you find gift packages for cancer, check the retail prices of the contents before you buy.  Sometimes you can pay over the odds just for the compilation of goods.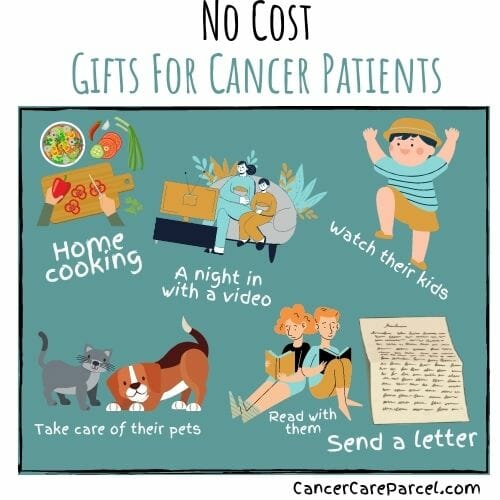 16 Great cancer gifts that will only cost your time
Sometimes you just want to do something different: to bring a smile to the face of someone who has or will be going through a lot. You can and it doesn't have to cost you too much or can be completely free.
1. A letter to let them know that you will be there for them
It is always comforting to know that there are people who care about you and that you can rely on. A heartfelt letter can be just as a great gift and as useful as any shop-bought gift.
2. A homemade voucher book of the things that you commit to do
There are many practical tasks that you can do that will help and support. A little booklet of tokens for tasks that you promise to do is a unique and meaningful gift that shows your commitment to be there for them.
4. Home cooking
With all the stress of appointments and worry about what will happen, it is important to make sure your friend is looking after themselves. If you bring them some homemade ready meals to heat up this can take really help. Be certain to make sure you know of any changes in eating habits, as often cancer treatment or cancer itself can change appetites or have restrictions.
3. Offer to take them out for a coffee or lunch date.
It may sound strange but often people will avoid their friend with cancer or avoid the subject. It's not easy to know what to say. But this might be the time when they need you the most. To offer to take them out for coffee or lunch and be there to listen could be just what they need.
5. A night in with a video/DVD/Netflix
A quiet night in, to take their mind away might be what they need. Some company and a good film/box set/sports match with you can work wonders.
6. Check in regularly
Your friend or loved one may be reluctant to "bother" you, not wanting to put too much on your plate or be wary to ask for help. Check in with them regularly to see if they need anything and make sure they know that you're happy to help them with whatever task they need.
7. Free empathy gift cards
Choose any empathy card here, enter your details and send. There is no need to sign up or sign in to anything and no cost. These electronic gift cards are also the fastest way to show your support.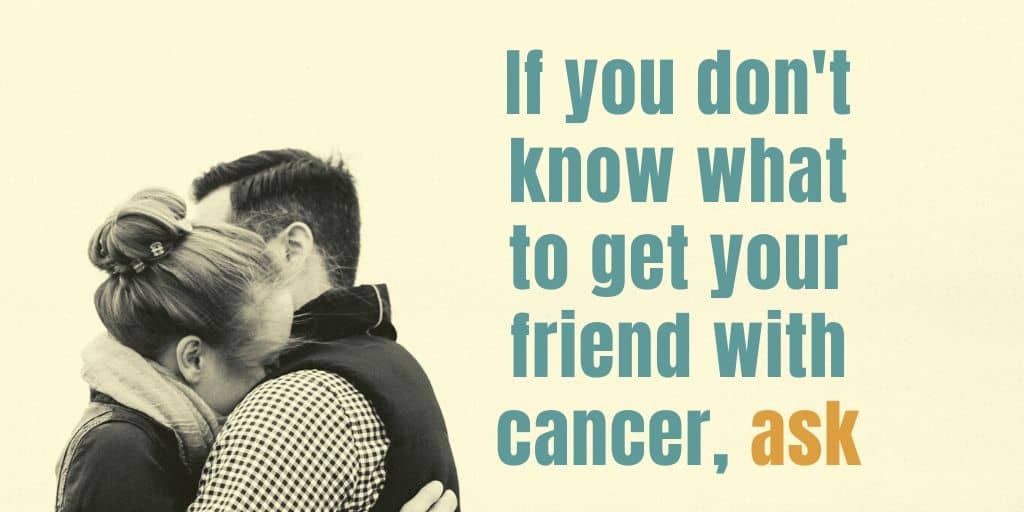 8. Offer rides
Giving a patient rides to chemotherapy or other treatment, to the doctor or even to the grocery store, so they can sit back and relax and not worry about driving, is a very useful and supportive thing to do.
9. Help them keep up with appointments
When you're sick and in pain or undergoing treatment, it can be hard to keep up with all the various appointments. Helping them keep track may be a great help.
10. Read to them
Just spending time with them can mean so much. You don't have to entertain them with constant conversation. Just taking the time to read to someone can help them relax and feel calmer. Why not pick a book you've both always wanted to read?
11. Watch their kids
If they have young children, you might offer to watch them a few days a week so they can have some alone time and get some rest? Offer to drive them to school or to their lessons, or take them for the weekend?
12. Help them with their chores or run errands
Trying to juggle everyday errands with chronic illness can be exhausting and stressful. If you can take over a few of those chores, such as doing a little shopping, cleaning the house, popping by the post office, it can make a huge difference.
13. Going for a walk/exercise
Doctors sometimes encourage people with cancer to exercise gently if they have the energy for it. Accompany your friend on a walk or for a yoga class if appropriate. They'll be thankful for your company and the quiet motivation you provide.
14. Take care of their pets
Pets are a source of comfort and loyalty for someone going through an illness. But taking care of a pet's needs is sometimes exhausting for someone who is ill. Help keep their pet fed, walked, and taken care of.
15. Advocate for them
Help your friend find resources for cancer patients, such as support groups or assistance they qualify for, and if they have concerns about their treatment, speak to their doctor. Sometimes patients just don't have the energy or feel anxious about challenging their healthcare providers. But if they are concerned about something, in pain, or scared, you should let their doctor know.
16. Self-care
Encourage your friend to practice self-care with little easy-to-do at-home things like a facial (if appropriate) or doing their nails, a foot rub or indulging in a movie night. There are also many freebies for people with cancer that might help.
40 Thoughtful gift ideas to buy cancer patients
Here are our suggested therapy-safe gifts for cancer patients that are comforting, appropriate, useful, and fun.
Gifts that provide comfort
A soft warm blanket
Comfort is going to be key to improving your friends day to day life while they are unwell. Blankets are the ultimate symbol of comfort. They provide something soft and warm to cuddle up in. Often, hospitals have limited resources too, even though they may supply blankets an extra blanket could provide them with more warmth if they need a hospital stay. Take a look at different options with different materials, weights, colors and prints. You might want to consider a weighted blanket, which could help with sleep struggles or anxiety or an electric blanket for sore muscles or to help warm a bed.
Pillows
A travel pillow can make things more comfortable when traveling between home and the hospital. Soft cozy pillows can help during therapies, bed rest, and convalescence.
Port Pillows
If your friend is going through chemo, they may have a port fitted to reduce the number of times that needles are inserted into their skin. This port will usually be on the chest and drugs can be intravenously administered through it. Port pillows come in useful when protecting this port during movement or when in the car (for example, a port pillow can prevent seatbelts from rubbing on the port).
Loungewear
A set of comfy PJs or some practical and breathable yoga pants or tanks are a nice idea for the patient who wants to be comfortable and still look stylish.
Bed socks and slippers
If your friend is in hospital, a good pair of hard-bottomed slippers can be easier to put on than shoes when they have to move around or go to the bathroom. Bed socks can also help to keep their feet warm at all times. Several companies make cozy thermal socks with textured bottoms so your loved one won't slip on the floor. These gifts are great around the house too!..
Stuffed animal
No matter the age, a cute and cuddly stuffed animal can be a sweet and comforting gift.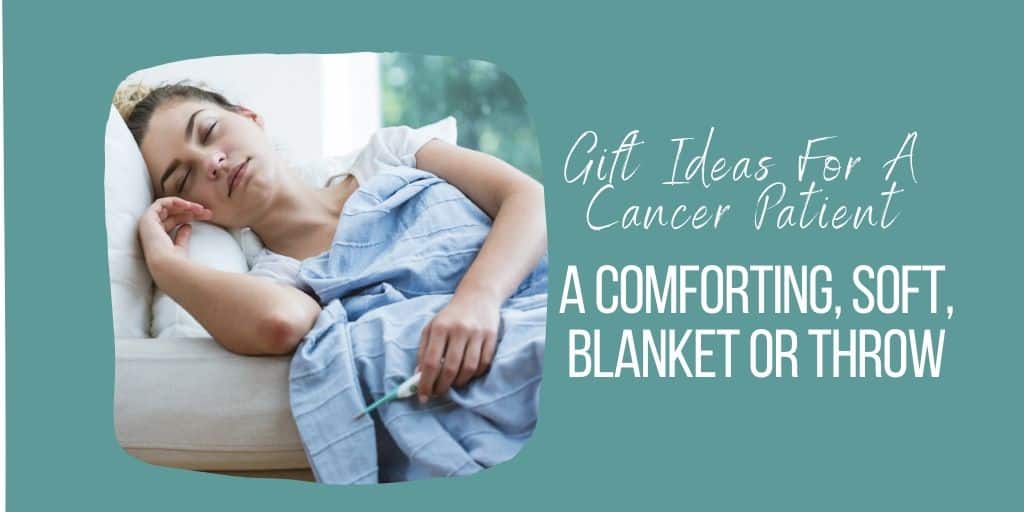 Cancer patient gift ideas that maximise wellbeing
Reusable water bottles
Cancer therapies can make people very thirsty, and hydration is a very important part of recovering from any illness. In addition, getting up regularly for glasses of water may not be an issue for someone who's in good health, but having plenty of water nearby at all times is useful for someone who may not have high energy levels. So a fancy water bottle could be welcome.
Anti-nausea bands
These can help offset nausea caused by cancer therapies.
Stress-relief gadgets
Items like fidget spinners, stress balls and other stress-relief trinkets aren't just for kids. Having something to fix their hands-on can help alleviate a great deal of anxiety.
A good book
There's nothing like the gift of a good book – help them escape into another world for a little while with a thought-provoking or engaging read that's guaranteed to bring them joy.
Lip balm
A good quality lip balm can help to prevent discomfort from chapped lips, a common side effect of some therapies including chemo. Opt for unscented and unflavoured options where possible.
Creams and Lotions
Skin can also become dried out by therapies such as chemo or radiotherapy. So, unscented, hydrating creams and lotions can be a good gift too. They'll prevent dryness, soreness, flaking and other issues.
Herbal Teas
Herbal teas that are delicious and may help combat therapy side effects like tiredness and nausea include mint, ginger and lavender teas.
Foot rollers and mini-massagers
A foot roller or mini-massage gadget can help aches, pains and stress.
Hand Warmers
A heated gel pack to warm the hands is a thoughtful and inexpensive gift idea and can help with cold extremities caused by treatments like chemo.
Gift ideas that provide entertainment
Books, a Kindle, or magazines
A good book, magazine, or kindle could be a nice gift. It will provide them with a distraction and something to do. If you are buying a book, try to choose something positive and uplifting. Chances are the person you're gifting to doesn't need anything sad in their life right now. Or splurge on a stack of your their favorite magazines so they can peruse fashion spreads, read new recipes or catch up on their favorite celebrity gossip.
Headphones
Often, when people are stressed, they will want to listen to music. A spare set of headphones means they can listen to music without hassling anyone else. There are even sleep headphones and noise-canceling headphones to help provide some peace and quiet for relaxation.
A Tablet
A tablet is compact all-around entertainment. Useful for hospital stays and convalescing.
Colouring books
Colouring is a peaceful and relaxing activity that doesn't require too much thought or effort. Just remember to pack some colouring pencils with the book too!
Puzzle books
Puzzle books – sudoku, crosswords, word searches… the options are endless. But they can, again, provide a simple and enjoyable form of entertainment that isn't too physically demanding.
Video games
Video games can be a good stress-relieving, fun activity to take their mind off things.
Board games
You could help fight boredom with a fun board game or card game.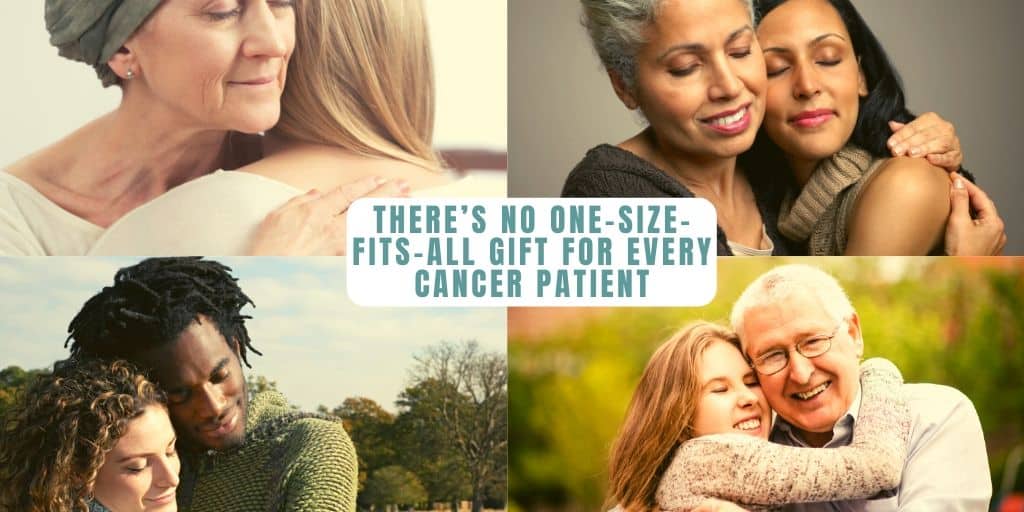 Helpful presents for cancer patients
When stuck at the hospital for hours, a cancer patient may want to write letters or catch up with a loved one, friends and family members. A set of nice stationery could be useful and brighten their mood.
Phone charger
These always come in handy, so your friend could have a charger at home, when undergoing treatment and for travel, making it easier to keep their devices charged.
Glasses
If your friend is spending a lot of time in bed reading or scrolling through their laptop or phone, they could develop eyestrain. A pair of blue-light glasses or new reading glasses is a thoughtful gift that may help.
Hand sanitizers
Keeping germ-free is very important for someone who is immune-compromised due to chemotherapy. A chemo patient can never have too much hand sanitizer.
Tissues
Tissues that are easy to carry in a pocket are inexpensive and practical, and they always come in handy.
Planners
Often, especially when undergoing treatment, there are many appointments to keep up with, a patient can get overwhelmed. A day planner or scheduling book is a nice gift that will help them keep up with all of their appointments.
Pill organizer
You can help your friend keep up with their medications (if they have any) with something fun and useful.
Noise machine
Sometimes it can be hard to sleep when you're anxious about undergoing treatment or if you're in pain. A noise machine helps shut out outside distractions and to sleep easier.
Booklights
These are helpful for reading in the dark, very useful for hospital stays.
Lap tray or TV tray
For the patient who spends a lot of time in bed, a tray to help them eat, write or prop up devices will be very useful.
Bag
For those who travel to-and-fro from home to therapies, a nice bag makes a functional and cheerful gift.
Gift certificates
For those paying for cancer treatments, money can be tight. A gift certificate to a favorite restaurant, a nice retail outlet or even the grocery store to help them with food expenses is a practical and thoughtful gift.
Uber Gift Cards
Your friend, colleague, loved one or family member might not be up to driving but may still want the independence of getting out without having to rely on others. If Uber doesn't run in the area, you may be able to prepay trips or get vouchers with a local taxi company.
Cancer care packages
The right cancer care package can be the perfect gift for cancer patients as the worry of whether the gift is appropriate has been removed. A basket or hamper containing several of the above-mentioned items, customized according to the patient's needs and interests, is a wonderful way to show them that you care. It will give them a gift full of surprises that will bring them joy and comfort that will last them a long time.
Putting together a cancer care pack provides bespoke helpful support. Hampers, such as a breast cancer basket, a chemotherapy-comfort pack, or a "Congrats, you've beaten chemo!" basket are all good ideas that help with side effects and provide comfort.
You could either create this yourself or rely on the expert advice of our team (past patients and those undergoing therapies, friends, family and caregivers and health professionals).
Below are the four best-selling cancer gift parcels. All are therapy safe and have been created by people who have experience with different ages and stages of cancer.
Services
If your friend is spending time at home rather than being in hospital, or if they're returning home from the hospital, paying for their services can help alot. Making their lives easier for them and allowing them to focus on resting up rather than day to day chores and routines.
Here are some that could prove particularly useful. Of course, always check before investing in a service that involves the person's home or belongings.
Cleaning Services: For a regular household clean or one-off deep clean
Laundry Services: To take away the constant chore of washing, drying, and ironing clothes.
Delivery Services: Amazon Prime tends to be a popular option, as your friend will be able to get almost anything they need from there. They will could also benefit from free streaming services with the package too!
Subscriptions
If your friend is spending a lot of time at home for recovery or convalescence, they may enjoy subscriptions or subscription boxes. These can arrive through the post and will bring a smile to their face. It could be their favorite magazine or journal. It could be anything they enjoy. Take a look at the different options out there and see what best suits your friend and their needs or preferences.
Don't be afraid to ask
If you really are in doubt, you shouldn't be afraid to ask your friend or caregiver for some ideas. Asking can really help to clear things up and may ensure that you get a meaningful gift that they will definitely love.
When treatments are over
And when therapy is over its important not to stop helping your friend. Many cancer patients say that the support stops after their last treatment and it can become a very lonely time, especially since the symptoms from treatments can linger for months and they may still be healing.
This may be exactly when they need your support when all other support has faded away. And while it is natural to think that a celebration is due and it would be good to mark the end of treatment with a happy celebration or token of celebration, time for recovery is still needed.
End of cancer treatment gift ideas
Final thoughts
This may seem like a lot of information to take in. But hopefully, it's helped to highlight a few things that you might want to avoid buying and also some ideas for useful, practical, and comforting gifts that will be well received well. This is a difficult time and a hard journey for your friend and your thoughtful gifts will help to show them they are supported and loved!
Dr Cohen started her working life as a research scientist and lecturer with over 100 peer-reviewed scientific publications.
She followed a classical scientific career until she left mainstream science in 2000 (which coincided with the birth of her first daughter) to establish the Life Science Communications company, Euroscicon Ltd.
Euroscicon Ltd was her first company (which she sold in 2016).
Current Projects
In 2013 Dr Cohen was diagnosed with Cancer and set up Cancer Care Parcel which provides appropriate gifts for people with cancer.
Dr Cohen is the lead scientific advisor at Optimised Healthcare. A medical profiling company which provides advanced disease prediction, prevention and wellness optimization services.
She also works with and establishes businesses and charities which benefit local, national and international communities.
Further reading
Choosing The Best Gifts For Chemo Patients
Finding Gifts For Female Cancer Patients
How To Help A Patient Having Radiation Treatment
Choosing Gifts For Men With Cancer