Press Room
Contact: Press [@] cancercareparcel.com
Purpose
Cancer Care Parcel provides the opportunity to buy friends, colleagues and loved ones gifts they need.  Their thoughtful, appropriate and useful cancer gifts are created in the UK by people who have had experience with cancer.
We also provide gift box donations and support to Cancer Charities and use profit to support the cancer community.  We help drive awareness campaigns and acting on the advice of their supporters, fill gaps that are needed in the Cancer Community.
We never have any of the following items in a box
Religious content
Non-conventional cancer 'cures'
Supplements which are said to 'cure' cancer
Shampoo or other hair products
Food (we may include natural sweeteners or items which help with dry mouth or bad mouth taste)
Anything with an overpowering smell
Anything that makes claims to cure or prevent cancer
Anything mentally or physically challenging
Cancer Care Parcel Current Projects
We established and maintain (not for profit)
About Dr Shara Cohen (Founder)
Dr Cohen started her working life as a research scientist and lecturer with over 100 peer-reviewed scientific publications. She followed a classical scientific career until she left mainstream science in 2000 (which coincided with the birth of her first daughter) to establish the Life Science Communications company (which she sold in 2016).
In 2013 Dr Cohen was diagnosed with Cancer and set up Cancer Care Parcel which provides appropriate gifts for people with cancer.
Dr Cohen is the lead scientific advisor at Optimised Healthcare. A medical profiling company which provides advanced disease prediction, prevention and wellness optimization services.
She also works with and establishes businesses and charities which benefit local, national and international communities via her company.
Press Coverage (that we are aware of)
As Molly-Mae reveals she's had a cancerous mole removed, here's how to spot the symptoms of skin cancer Marie Claire - Oct 2020
Practical Ways You can help Someone with a Cancer Diagnosis Positive Health - Aug 2020
Cancer survivor launches care package service while isolating with coronavirus symptoms Oh My Goodnews News - 17th May 2020
Cancer survivor says coronavirus pain is "needles stuck in eyes" Urban - Fusions - 9th April 2020
Cancer survivor says coronavirus pain like having 'needles stuck in eyes' Mirror - 8th April 2020
London coronavirus: Covid-19 and cancer survivor launches care package service to help other virus victims. My London - 4th April 2020
Corona victim launches non-profit to help others - New York Chronicle - 2nd April 2020
Why I changed direction in business when I was diagnosed with cancer Business Media Group - 3rd Feb 2020
28 Entrepreneurs Explain The Essential Skills One Needs To Be a CEO CB Nation - 26th Jan 2020
Lessons I Learned When I Faced My Mortality: From A Mother Thrive Global 18th July 2019
What to Say and Not to Say to People who have Cancer Positive Health 18th May 2018
Cancer Care Parcel: "The best gift you can give is your time" Viva Manchester - 7th Feb 2018
What Can You Buy Someone Who Is Having Treatment For Cancer? I am Typecast - 3rd Jan 2018
Comfort packs for cancer patients Jewish Chronicle - 26th Oct 2017 PDF version
Breast cancer survivor launches Cancer Care Parcels Watford Observer - 21st Oct 2017
The best possible gifts for when flowers aren't going to cut it Stylist Magazine - Oct 2017
"When I Got Cancer, My Friend Said 'I Wish You Hadn't Told Me'" Refinery 29 - 6th Oct 2017
Hard Copy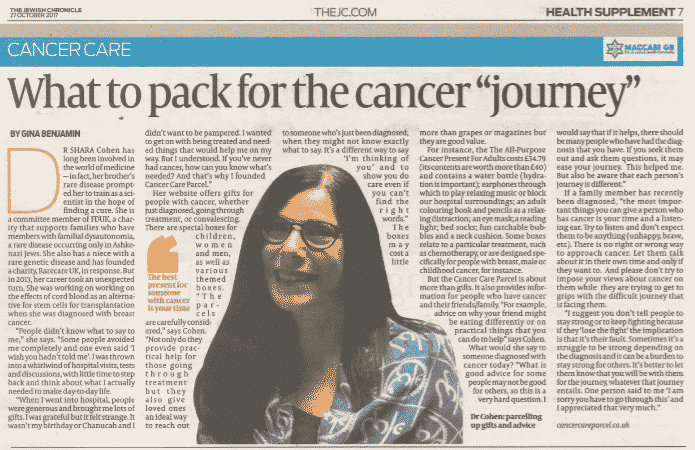 Podcasts
Fresh Perspectives – By Cancer Together – Oct 31, 2020
Press Releases
A Unique Cancer Care Gift Package To Be Made Available From Cancer Care Parcel And Twist Out Cancer - 3rd June 2021
Cancer Care Parcel Provides Practical Solutions For Loved Ones In Times Of Need - 10th June 2020
Don't Spend Valentine's Day With Cancer, Urges Breast Cancer Survivor - 23 January 2020