Teen Cancer Gifts
Explore our cancer gift ideas for teenagers.  Including parcels for chemotherapy, radiotherapy, surgery and convalescence.  Presents that are comforting, thoughtful and appropriate.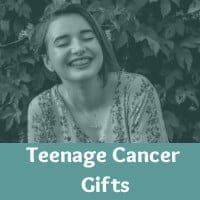 Show Filters
Cancer Care Parcel creates a wide variety of unique care packages suitable and appropriate for cancer patients of all ages and stages.

✔ This collection of has care hampers stuffed with comforting, fun and useful items for teens  with a cancer diagnosis.

✔ Safe for all cancer therapies, including chemotherapy, radiotherapy, and or surgery, these gifts let teenagers take some of their worries away and bring focus on things they may enjoy.

✔ Thoughtfully arranged by people who understand what cancer patients really want.  We carefully construct each box so that you can feel secure that your gift will be welcome.