If You're Feeling Down – Enamel Mug
£16.99
If your friend or loved one is feeling down, this little enamel mug will remind them that bad days are ok. It also has a few simple ideas to give them comfort during difficult times.
 Created by us (you won't find this design sold by anyone else).
Profits go towards supporting the cancer community.
SKU:

61656A8EBE9F8
Categories: Adult Care Packages, Bladder Cancer Gifts And Packages, Bone Cancer Gifts And Packages, Breast Cancer Gifts, Cancer Caregiver Gifts, Cancer Drug Therapy Gift Packages, Cervical Cancer Gifts, Chemo Gifts, Christmas Gifts For Cancer Patients, Colorectal Cancer Gifts, Convalescence, Dont Know Which Cancer Treatment To Buy For?, End Of Cancer Treatment Gift Ideas, Gift For Someone Recently Diagnosed With Cancer, Gifts After Radiation Therapy, Gifts For A Woman With Cancer, Gifts For Loved-Ones, Gifts For Someone Going Through Radiation Treatment, Gifts To Celebrate The End Of Chemo, Leukemia Gifts, Living With Cancer Gifts, Lung Cancer Gifts, Melanoma Gifts, Mugs, Ovarian Cancer Gifts, Post Surgery Care Packages, Stage 4 / Metastatic Cancer Gifts, Teen Cancer Packages, Thoughtful Cancer Gifts, Throat And Mouth Cancer Gifts, Thyroid Cancer Gifts
Select the country of delivery, to see availability.
30 days easy returns
Order before 2.00pm for same-day dispatch (care packages only)
Description
It's lightweight, durable and multifunctional.
Can be attached to a bag for easy access.
Additional information
Weight
0.14 kg
Specifications

• Material: Enamel
• Dimensions: height 3.14″ (8 cm), diameter 3.25″(8.25 cm)
• White coating with a silver rim
• Hand-wash only
SKU:

61656A8EBE9F8
Categories: Adult Care Packages, Bladder Cancer Gifts And Packages, Bone Cancer Gifts And Packages, Breast Cancer Gifts, Cancer Caregiver Gifts, Cancer Drug Therapy Gift Packages, Cervical Cancer Gifts, Chemo Gifts, Christmas Gifts For Cancer Patients, Colorectal Cancer Gifts, Convalescence, Dont Know Which Cancer Treatment To Buy For?, End Of Cancer Treatment Gift Ideas, Gift For Someone Recently Diagnosed With Cancer, Gifts After Radiation Therapy, Gifts For A Woman With Cancer, Gifts For Loved-Ones, Gifts For Someone Going Through Radiation Treatment, Gifts To Celebrate The End Of Chemo, Leukemia Gifts, Living With Cancer Gifts, Lung Cancer Gifts, Melanoma Gifts, Mugs, Ovarian Cancer Gifts, Post Surgery Care Packages, Stage 4 / Metastatic Cancer Gifts, Teen Cancer Packages, Thoughtful Cancer Gifts, Throat And Mouth Cancer Gifts, Thyroid Cancer Gifts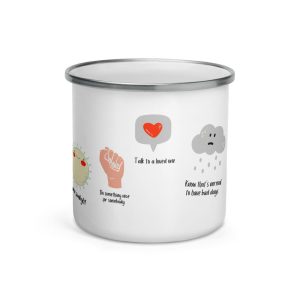 If You're Feeling Down – Enamel Mug