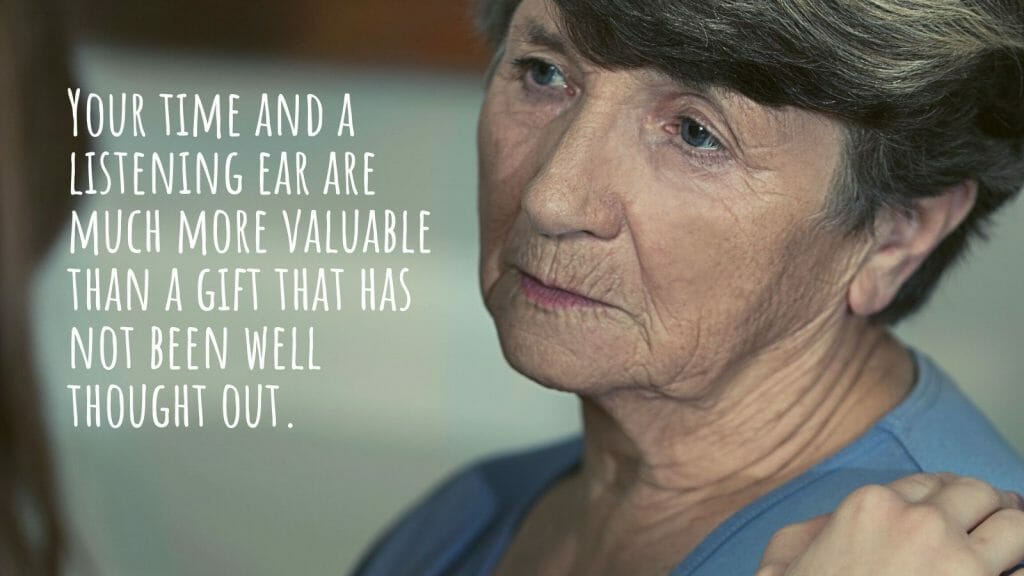 I have seen so many articles suggesting spa treatments for people who have breast cancer and beanies for people having chemo and I want to put the record straight.
The first thing I want to say is
Do not get gifts for people with cancer unless you are sure that they are appropriate. Your time and a listening ear are much more valuable than a gift that has not been well thought out.
Common effects of cancer and treatments (and how they affect choosing gifts)
When choosing gifts for cancer patients it is important to take into account how a cancer patient is affected by both the illness and the treatment.
Physical side effects
Your gift ideas need to take into account any physical changes your friend might experience, as follows
Skin sensitivity and dryness
Chemotherapy and radiotherapy and the dry air in hospitals can all cause different types of skin sensitivities as well as dry skin. This means that whilst plain moisturizers and lip balms may be welcome to a cancer patient, products with additives, perfumes or chemicals are not.
Oral issues
Cancer patients undergoing treatment can experience sore gums, mouth, and tongue. This means that some food might be off-limits and even everyday items for oral and dental care, such as toothbrushes and mouthwash need to be gentler than what might have been used previously.
Changes in smell and taste
Cancer patients can undergo temporary changes in their senses of smell and taste. This can make scents and cleaning products to be harsh on the noise or certain foods to trigger nausea.
Change in appetite and dietary restrictions
Therapies, particularly chemo will alter a healthy appetite and many cancer patients change their diet on the diagnosis.
Temperature swings
Different cancer therapies can temperature regulation in different ways. For example, a cancer patient having chemo may feel chilly or have cold extremities, whereas women breast or ovarian cancer patients on hormone therapies may have hot flushes.
Physical limitations
There are many reasons why mobility may be compromised in cancer patients. These may depend on the stage of cancer. For example shortness of breath is common with lung cancer and often worsens with advanced disease. Alternatively, therapies such as surgery will temporarily make a cancer patient immobile.
Compromised immune system
Cancer and its treatments can reduce immune systems functionality and this needs to be taken into account when looking at gift ideas. For example, some foods, flowers, plants and pets may not be welcome. This is discussed further below.
Emotional side effects
Being diagnosed with cancer and undergoing a variety of therapies can take a huge emotional toll. Not only is cancer scary but some therapies influence hormonal balance and can cause moodiness or feelings of depression. And you don't want to make them feel worse with a gift that has not been well thought out.
Financial concerns
This is just a reminder that cancer is expensive and the level of the cost usually depends on the country the patient lives in. Added to the cost is the fact that income may be reduced due to time off work for treatments and visits to the clinic or doctor's office. So vouchers for day-to-day items, as well as luxuries could be good gifts.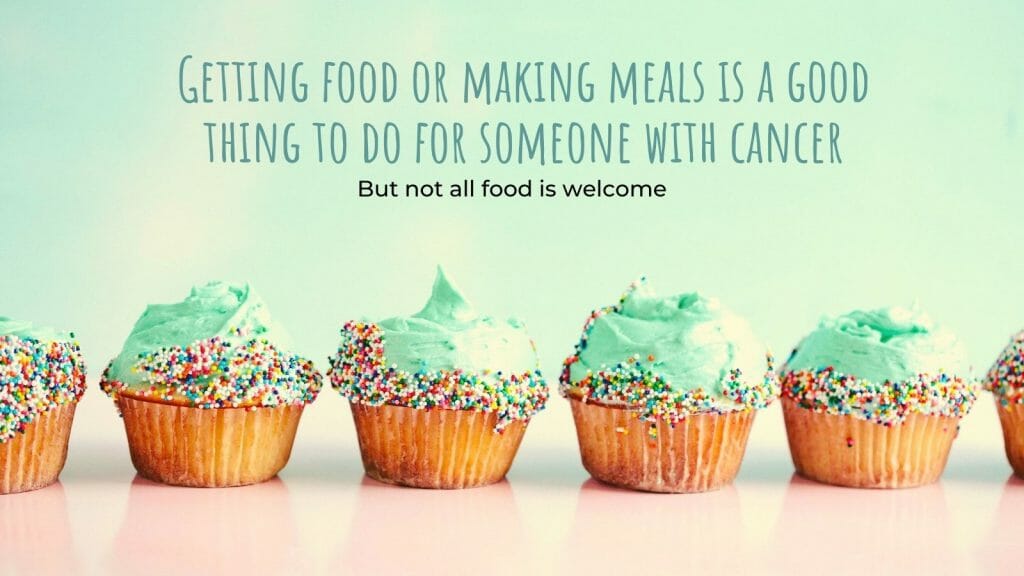 13 Common gift ideas that do not benefit people with cancer
Not all the gift ideas below are bad gifts for all people with cancer. If you are unsure it's Ok to check with the patient or their caregiver.
1. Advice on their diagnosis/treatment
One of the worst gifts for cancer patients are books, articles and advice on how to deal with their cancer (unless they ask specifically). Although there is no right or wrong way to speak to a person with cancer. It is hard to give good advice when you are not in their position and everyone's cancer, response to treatment and attitude about their cancer is different.
2. Beanies and other hair coverings
Not everyone will lose their hair. Different therapies can result in hair loss, but the degree of which and how it will impact your friend or loved one can vary. So, hold off on buying things like wigs, hats or other hair coverings. If down the line, your friend would like some, it will be appropriate to buy them then. But you may find that it's not entirely necessary and buying them prematurely might upset your friend needlessly.
3. Spa treatments
A few years ago, someone recovering from cancer or undergoing treatment may have been refused treatment at a spa and there are many good reasons for this. For example, lymphedema a long-term complication of cancer treatment), affects individuals who have had surgery for breast cancer. to avoid getting lymphedema patients need to avoid extreme heat, for saunas and steam rooms. Once someone develops lymphodema there is no cure and it can be extremely painful. So any precaution to avoid the possibility of it developing is good advice. It is also very important that saunas and steam rooms are avoided during and for a few weeks after radiotherapy.
However, there are more and more spas that are recognizing the need for cancer patients to have access to their facilities and you will find that many now have specialists who are trained to treat people who have had cancer. So if you do want to book your friend in for a spa treatment make sure the place you choose knows about their cancer and that they have someone specially trained who can look after them. It is also best not to surprise your friend and to discuss the booking with them first so that they can discuss any spa treatments with their health professional (s).
4. Plants and flowers
As mentioned above, many cancer therapies will reduce the immune system function and therefore play a large part in making cancer patients lose their ability to fight infections. This is because they destroy cells that divide quickly. This includes the immune cells that protect the body from usually harmless bugs. So for a cancer patient having some types of therapies, things like flowers, which are usually harmless, become a threat simply because of the germs they carry.
5. Certain foods
Food/fruit baskets might not seem harmful. But do you know what food they can consume? Some people with cancer might need to give up dairy due to the side effects of treatment, some might have extreme nausea, others might have given up sugar. Mold-containing and soft cheeses should also be avoided, especially non-pasteurized imported cheeses if someone is having chemo, as the cheeses may contain bugs that can be serious in those with weakened immune systems (as mentioned above).
Getting food or making meals is a good thing to do for someone with cancer. So before you buy or make anything just ask to ensure you are doing the right thing.
6. Chocolates
There are many reasons why chocolate might be a bad choice of gift, but again, we would suggest that you check with your friend, family member or loved one first. On a personal note, all through my cancer treatment, I had chocolate. It was something I was not prepared to give up. However, I had friends with cancer who stopped eating anything with added sugar and others who found their taste had changed due to therapies and could not stand the chocolate taste anymore. If in doubt, as with most things check. Just don't assume that because they may have been a chocolate fanatic before their cancer, that they would still appreciate it now.
7. Massage
With all the stress of cancer, treatments and appointments, it's easy to think that a nice relaxing destress massage is a good idea. But this is not always the case. It is very important, for example, to avoid massaging any area of the body where there has been radiotherapy treatment, where skin may be broken or bruised. If lymph nodes have been removed, the immune system is compromised and a deep tissue massage could bring on lymphedema. In addition, any rough and rigorous massages, scrubs, or treatments should be avoided because the skin might be more sensitive than usual.
8. Alternative treatments
Please leave the treatments to your friend's doctor/health professional. It is likely that your friend or loved one is already overwhelmed with advice and options. It is also likely that they are exploring all the options that they think are appropriate. Unless you are specifically asked, as we mentioned at the start, please don't offer any type of advice regarding treatment options, even if you know people who have been cured by none conventional therapies.
It can be very annoying for someone with cancer to have to fight with a well-intentioned friend over therapies they don't feel comfortable with.
9. Perfumes and Scented items
Some people have a signature scent and you may think that it would be a nice idea to send a bottle of this favorite perfume or skincare treatment (such as lotions and creams) into their hospital or care facility to help them feel a little more at home. But treatments such as chemo can often alter people's sense of smell and scents that were once appealing or pleasant to them could now make them feel nauseous.
An alternative to this kind of gift might be unscented lotions, creams, and other skincare products.
This can give a sense of luxury without triggering nausea.
10. Bucket list experience
Just because someone has cancer, it doesn't mean they're dying. A bucket list experience could be one of the worst gifts for cancer patients, unless they have specifically asked for this (even if they are dying). Their mortality is not something that you want your gift to remind them of.
11. Sexy clothing
If you have a friend who is losing their body confidence because of the toll that cancer and its treatments take, you may think that getting them something to bring their sexy back is a good idea. While well-intentioned, this may act as a difficult reminder of the changes they are going through.
12. Pets
It is best not to get your friend something that they have to care for or keep alive whilst they are undergoing treatment. There's no telling how many days in the hospital they have ahead of them or what their life will be like when treatment is over.
13. Tickets to a sporting event, concert, or movie
This kind of gift can be too much for someone dealing with treatment but could be a good gift for someone who is in remission or in between therapies.
Tips for finding the right gift for a cancer patient
We hope that this list of worst gifts for cancer patients has not deterred you from getting something appropriate and meaningful.
It's not difficult to choose a thoughtful cancer gift, but when choosing you would need to, where possible
Think about the person you are buying the gift for
Understand the emotional and physical effects of their cancer and their treatments
We have other articles on this site which discuss best gifts to buy people with cancer. We also have a wide range of thoughtful cancer gift ideas that show you care and give support.
Choosing the right cancer care gift
Here is a selection of some of the categories of care parcels you can get on this website. Each has been curated by a team that understands the needs of cancer patients of different ages, stages, and types of cancer.
Dr Cohen started her working life as a research scientist and lecturer with over 100 peer-reviewed scientific publications.
She followed a classical scientific career until she left mainstream science in 2000 (which coincided with the birth of her first daughter) to establish the Life Science Communications company, Euroscicon Ltd.
Euroscicon Ltd was her first company (which she sold in 2016).
Current Projects
In 2013 Dr Cohen was diagnosed with Cancer and set up Cancer Care Parcel which provides appropriate gifts for people with cancer.
Dr Cohen is the lead scientific advisor at Optimised Healthcare. A medical profiling company which provides advanced disease prediction, prevention and wellness optimization services.
She also works with and establishes businesses and charities which benefit local, national and international communities.
Further reading
Choosing The Best Gifts For Chemo Patients
Gifts For Female Cancer Patients: Hugs, Gifts And A Lot More Discussed.