I was diagnosed with cancer at Christmas when I was 29.
Chronic myeloid leukemia to be precise. I came to learn that my cancer was a long-term condition and would need to be managed for the rest of my life. My doctors also informed me that it was very rare to have developed it at such a young age. There are cases of patients being cured with a risky bone marrow procedure, but I wasn't elected to be one. Instead, I take TKIs daily which unfortunately leaves me with pronounced fatigue and mobility issues.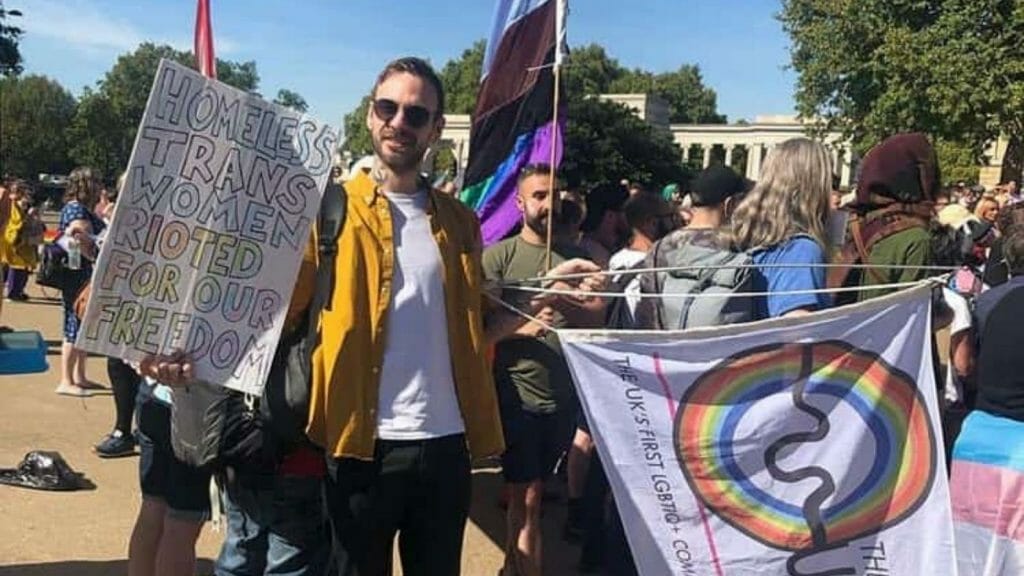 The thing I knew I needed most in this disorienting time was support, but every time I stepped into a cancer centre I didn't see anything that reflected who I was.
Each type of support I was offered tried to hone in on a specific part of my identity but none of them seemed to fit. From being encouraged to try chair yoga with the over 50s with similar conditions or table-tennis with energetic young men nothing felt appropriate or accessible.
I had come to terms with the fact that meeting people my age with my cancer was going to be unlikely, but this meant I had to find another part of myself that I felt I could lean into for the support I needed. This is when I noticed the lack of LGBT-specific services or support throughout my whole experience.
I had seen no displays of LGBT visibility or inclusion during my treatment in both Brighton and London.
No leaflets, no posters, no mention. Even when I directly asked for them I found that there was nothing to offer. So, I set about making what I was looking for.
Though I had heard about some online forums or seen that there was a prostate-specific support group, I felt there could be a group open to everyone on the LGBT spectrum with any experience of cancer.
I wanted to sit in a room with fellow members of my community and just be able to talk freely.
With the support of King's College Hospital and Macmillan I set about creating a peer-support group for any LGBT person affected by cancer.
I wanted to bring together the variety of genders and sexualities that reflect our community so that we may be able to support each other and avoid any isolation or frustration felt during treatment. We also welcome partners of patients or those who have been bereaved.
At present, there is a noticeable lack of LGBT-specific awareness related to oncology from both healthcare staff and charities. LGBT health is often focused on sexual health, but there are community risks and barriers to healthcare that also affect us when navigating cancer. By making staff aware of these differences we can create safer environments for LGBT patients to disclose their identity so that their doctors and nurses can be more appropriate with their support.
With my background in research, I pulled together an understanding of the barriers facing LGBT patients and created a series of supportive and informative documents so that we might move towards a safer, more inclusive healthcare environment for all. I also now take an active role in patient involvement and third sector events where possible and use my platform to raise awareness of the LGBT experience.
This may all sound like a lot. To be honest, navigating these projects with the chronic fatigue from my treatment is some days insurmountable. But, being able to use my experience to help my community has allowed me to not only gain the support I was so desperately seeking, but also it has allowed me to process my own health and come to terms with my new normal. If life gives you lemons, I suppose!
Stewart O'Callaghan is the founder of Live Through This, a service supporting and advocating for LGBTIQ+ people affected by cancer. They are living with chronic myeloid leukaemia. They are actively involved in various PPI projects at Kings College Hospital and with the South East London Cancer Alliance and use their platform to raise awareness of queer issues in cancer.
Live Through This hosts monthly peer-support sessions on the first Thursday of each month at 6pm at Maggies Barts, London.
Further reading
A Review of Sexual Minority Experience in Oncology
A New Cancer Support Forum For The Cancer Community On Facebook