In my case, I was diagnosed with lymphoma cancer (non-Hodgkin's lymphoma) in March 2017 and luckily 6 chemo`s were sufficient to treat the disease. No doubt, this really impacts a person, mentally ánd physically, hence I decided to pick up cycling again after not having been near a bike for almost 20 years. The fact that I have a brother who is cycling intensively and winning prices doing it, gave me that extra boost to restart. As cyclists it is a unique opportunity for us to share our passion with people who are recovering or cured from cancer and also with their relatives who also had to go trough the whole treatment in another way.

During the chemo treatments, cycling gave me the strength to ease my mind and to not fall to pieces.
It is not easy to encounter yourself again and again and being faced repeatedly with the limits of your weakened body. You want to climb that slope (mountain!) in one go and it takes perseverance and determination to not give up when you still have to get off for the umpteenth time because you do not get there. It takes a (un)fair part of blood, sweat and tears – and a very rich cursing vocabulary – not to give in and to continuously keep trying to tackle that ascent without having to get off the bike. It's the small daily victories over yourself, your cramping body and your morals, that give utter shine to your fight. The first non-stop climbing is nothing but sheer euphoria and beauty. Bike&fight in every way!
In May 2018, me and my bike took on Tenerife's Mount Teide, a non-stop climb of 35km.
That was the challenge I had imposed on myself when I started back cycling again. And so the story goes. Albeit at a slow pace, but I restrained "my" mountain and realized that there was hope and especially the belief that this fight with myself and my bike made me stronger and more resilient. I was definitely bit by the cycling microbe.
Due to these developments and to some emotional events in our private life, seeped in the idea to move to Spain. We were living the "rat-race" kind of life in Belgium and got thoroughly fed up with it, wanting to be able to enjoy more of what life has to offer us today and we decided not to further postpone everything to "when we retire". Life can't be procrastinated, there are no such things as guarantees in life.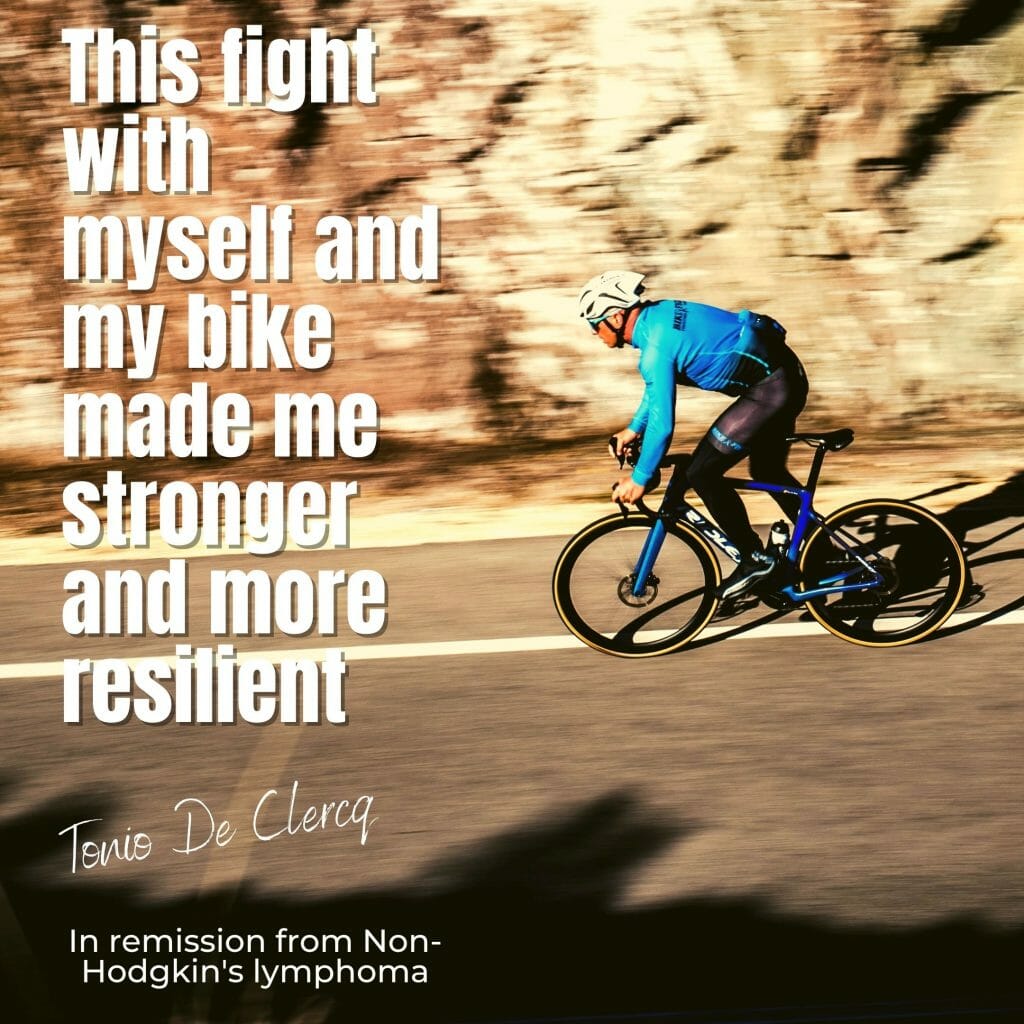 We steadily built our new life.
Cancer is, unfortunately, closing doors, including the financial ones. Even if you already have contributed your entire career to your national social security system, etc., cancer can strip you from far more than hair. Literally and figuratively. Receiving aid from financial institutions, healthcare centres and charities seems to be either a non existing – or very rare event.
The fact that I had private hospital insurance was perceived as a luxury by the so called "care" (???) institutions and they judged I was not eligible for financial assistance whatsoever. Lots of blah-blah, but zero action on their behalf; we were on our own.
My idea to do something for my peers who would be faced with the same hideous obstacles grew.
After sharing my idea and plans with my friend, Jens De Roock of VelosolCycling, he was very eager to help me out. Brainstorming sessions were organized, many weighed up and additional creative input came from my wife, Sandra, all adding up to our project quietly but increasingly getting shape.
Doing so it went from searching a suitable name, a catchy slogan and logo, to introducing us and our project, creating web site context, ​​further developing our ideas, designing our cycling jersey that is for sale with a nice discount for peers, etc. to the realization of this great project, Bike & Fight.
Our goal is to cycle in small groups in the less traffic impacted area of ​​the natural green Jalon Valley with its appealing surrounding hills and mountains.
Cycling in small groups ensures the rides to be a lot easier and safer for both participants ánd facilitators. It makes participants less anonymous and gives them the opportunity to ride at their own pace and to exchange experiences with peers.
Additionally, we can also offer accommodation in the Jalon Valley to our cyclists. Thus we avoid the crowded and sometimes dangerous traffic along the coastal roads leading to our Jalon Valley and we save us from a busy ride to and from Calpe. Also there a nice discount for our cancer-survivors.
Therefore, as from the start of the rides, we ride in the green and hilly cycling area what surely is an added plus if you want to enjoy the peacefulness and nature. Another advantage is that we can then nevertheless still add a short ride as far or even further to the beautiful inland since we're saving out on an average 30km to and from Calpe, in other terms 30km of potential extra cycle excitement to enjoy to the maximum the healthiest region of the Costa Blanca!
Our motto "Bike together – Fight together" in every way.
Tonio was diagnosed with lymphoma cancer (Non-Hodgkin's lymphoma) in March 2017 and luckily 6 chemo`s were sufficient to treat the disease. During the chemo treatments, cycling gave him the strength to ease his mind and to not fall to pieces and so he developed the support group – bike together, fight together.
Further reading
Me And My Radiotherapy Treatment: What You Cant See